I was making up some assets and mockups for the iPhone version of TPD2 and I was reminded of the good (well, bad) ol' days of doing art for mobile devices. And, I mean "mobile devices" as in those tiny cell phones with their tiny screens that your grandparents probably still use. Yes, the current iPhone boasts an impressive 960x480px screen, but even then, I wouldn't be able to fit everything I want to fit, especially considering all the great ideas you guys have sent me. Also, everyone with an old iPhone wouldn't be able to play. That's one of the biggest disadvantages with pixel art: you can't scale down a 1:1px image without losing pixels and you can only scale up x2. This is where vector graphics would be ideal, but I'm not about to change The Pocalypse's stye! :D So, how about we go with the massive 1024x768px screen that comes with the iPad?
Here's a mockup of what I've been working on, with the 1024×768 screen in mind. (Click to enlarge.)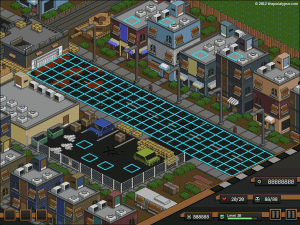 As you can see, the UI has changed a bit and is a bit simpler and less obstructive. The blue squares are where you can place units. Way more places to put your units, right? :D
I think this would look great on an iPad, but then issues concerning the Flash version arise if we work with this big size. Most Flash portals don't allow a game that's 1024x768px, so Rich and I have to discuss how the Flash (or PC) version is going to work :D Also, how many of you actually have an iPad? Just curious :D
Let me know what you think! And, keep the suggestions and ideas coming! I greatly appreciate them! Feel free to join the brainstorming and discussion in this forum thread! :D
Enjoy Scene 24 – "Not Rosa, Anymore"!
You can follow The Pocalypse on Facebook, Twitter and RSS!
Check out Green Pixel's first iOS game: BlockHopper! http://blockhopper.greenpixel.ca/ Thank you for your support and have fun running, hopping, and thinking your way to the Goal! Make your own levels, too! :D The FREE Lite version is also out! Get it here!