Working on more TPD2 stuff, I wanted to post some of the robots that will end up in the game :D How do they look?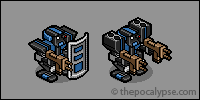 Robots are way more fun to "draw" than humans (feels weird calling pixel art "drawing")! Reminds me of my childhood, drawing Gundam robots and my own Megaman renditions (Megaman Z, haha). When I'm back in Canada, I'll dig up my old drawings, scan them, and post them if I have the courage to :D
Keep the TPD2 suggestions and ideas coming! I greatly appreciate them! Feel free to join the brainstorming and discussion in this forum thread! :D
Enjoy Scene 26 – "Take Me With You"!
You can follow The Pocalypse on Facebook, Twitter and RSS!
Check out Green Pixel's first iOS game: BlockHopper! http://blockhopper.greenpixel.ca/ Thank you for your support and have fun running, hopping, and thinking your way to the Goal! Make your own levels, too! :D The FREE Lite version is also out! Get it here!