Pictures on Facebook!
05/07/2011
by
Joe
Sorry, everyone! No scene today, but I hope to get it posted tomorrow! I got home from Tokyo exhausted, plopped into bed and slept for a glorious 12 hours. Oh man, it felt good.
In the meantime, check out the crew's pictures of Tokyo on our Facebook page! Like us while you're there! I like being liked :D
Here's one picture I want everyone to see!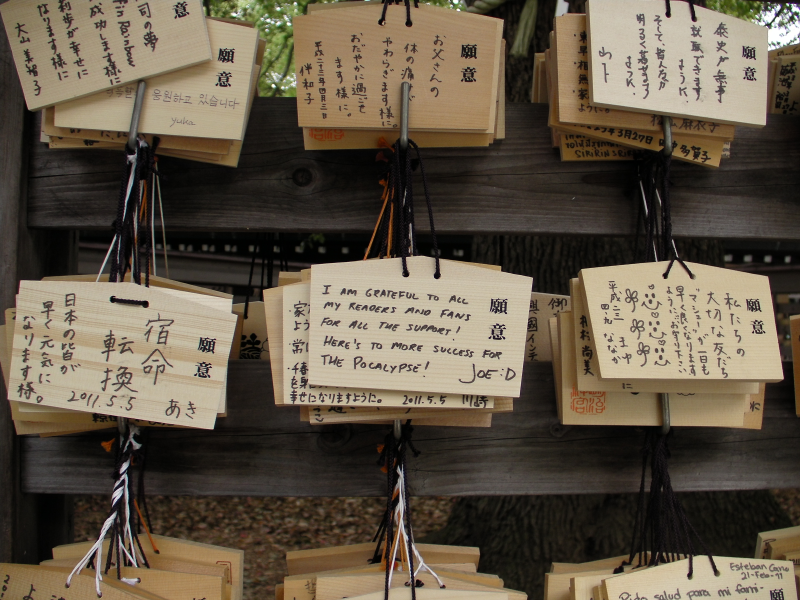 I hung this votive tablet around a divine tree in Meiji Shrine to show my appreciation! It reads, "I am grateful to all my readers and fans for all the support! Here's to more success for The Pocalypse! Joe :D"
I'll post the scene on this page, so stay tuned!
UPDATE: I wanted to try something different for this scene that requires ActionScript that I've never encountered before. The scene isn't done yet because I can't figure it out! D:
I'm trying to find ways to do what I want to do, so learning new things is taking up most of my time with this scene. I'll have it up as soon as everything is figured out and completed! :D So, we're probably looking at a normal Monday update. Sorry!